Return to Headlines
Monty Tech Alum Follows His Culinary Dreams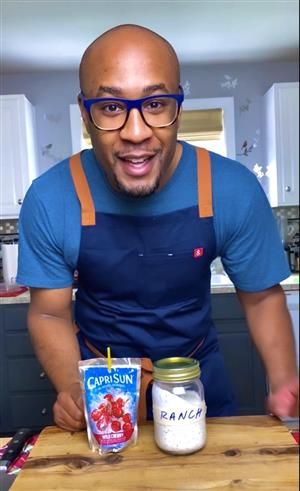 If you're a Food Network fan, you may have spotted Monty Tech alumnus Evan Martin this past July, when he appeared on "Supermarket Stakeout," chef Alex Guarnaschelli's cooking competition. Evan, a 2011 Monty Tech graduate, is a hotel executive chef in downtown Boston and a social media influencer whose TikTok account (@theflavors) is quickly approaching 200,000 followers. We spoke with Chef Evan this autumn, and his story highlights the doors opened by vocational education.
Many students enter Monty Tech undecided about their career path, while others apply to the school with a vision already in mind. Evan, a Fitchburg native, fit into the latter category: he had a passion for food from a young age, and he knew immediately upon being accepted to Monty Tech that Culinary Arts would be his first choice shop. Thinking back on his time at the school, Evan has happy memories from Culinary Arts. "From karaoke to our final field trip, our class always found a way to smile and have fun," he recalls. Evan credits Culinary Arts instructors Joe Haggerty, Paul Gosselin, and Michael Banks with being particularly important mentors.
Beyond shop, Evan took full advantage of his Monty Tech experience. He attended the school alongside his twin brother, Aaron, and both brothers played football and basketball and competed in track and field. Evan also held several campus leadership positions, serving as co-captain of the football team, as well as class president.
When asked what advice he'd give to a prospective student considering Monty Tech, Evan shares, "If you're passionate about what you want in life, then go after it! It could be food, it could be building, it could be computer design! Just remember you have the power to make that choice, and Monty Tech has the tools to teach you!" He adds that mentorship is available throughout the school and not simply in your shop, naming Assistant Principal Katie Schmidt and Director of Student Support Services Victoria Zarozinski as additional faculty members who supported him as a young person.
While many Monty Tech students head straight to the workplace after graduation, Evan opted for college, attending New England Culinary Institute in Montpelier, Vermont. He has cooked in various high-end establishments, including the Ritz-Carlton in Naples, Florida and his current employer, the Doubletree by Hilton Hotel in downtown Boston. When discussing career pathways, he shares, "Culinary arts has more to offer than just restaurants, bakeries, and bars. There are so many different avenues you can take, from food photography, styling, or content creation, to health advisor, or even—my favorite—food television!"
When you meet Evan, you're immediately struck by his warm presence and positive energy. According to Katie Schmidt, his junior year history teacher, "Evan was truly a delightful and inspiring student—always engaged and always smiling. He was conscientious; a true joy to have in class."
During the COVID pandemic, Chef Evan used that passionate engagement to spark his social media career. His staff encouraged him to post recipes online, and his Instagram and TikTok follower counts grew rapidly. His TikTok videos are bite-sized and fun, expertly edited to inspire but not intimidate the home chef. At less than a minute apiece, the videos highlight ingredients and techniques with sizzling audio and mouth-watering food close-ups. With more than 3 million "likes," his videos are clearly making a mark. Thoughtfully-chosen product placements also lead to advertising partnerships, an important source of revenue for social media influencers like Evan.
Chef Evan also believes in giving back to his community. In spring 2021, he returned to Monty Tech to serve as a guest judge for a student culinary competition. The cooking competition, a production of Fitchburg Access Television's "Forks Over Fitchburg" program, featured eight current Monty Tech students attempting to produce a winning dish. Evan joined three other guest judges to provide feedback to the student chefs, thoughtfully critiquing their cuisine and providing encouragement. His natural comfort in front of the camera was evident, and students were inspired by his culinary expertise and career success. Katie Schmidt reflected on his impact, saying, "Evan exemplifies the opportunities that vocational education creates for our students."
Chef Evan is ambitious about his next steps. He intends to grow his career as a chef while building his social media and television presence. Asked to imagine hosting a celebrity dinner party, his hypothetical guest list includes culinary luminaries like Bobby Flay, Emeril Lagasse, and Gordon Ramsay. Given Evan's charisma, work ethic, and talent, it's not hard to envision this type of star-studded future for him. Chef Michael Banks, Evan's former instructor, reflects, "I'm proud to say that Evan Martin attended culinary school here at Monty Tech. He was an exceptional student and role model who showed up everyday with determination, enthusiasm, and skills. I'm certain that he will be in the spotlight for many years to come."
To view Chef Evan's content on social media, check out tiktok.com/@theflavors and instagram.com/theflavors.