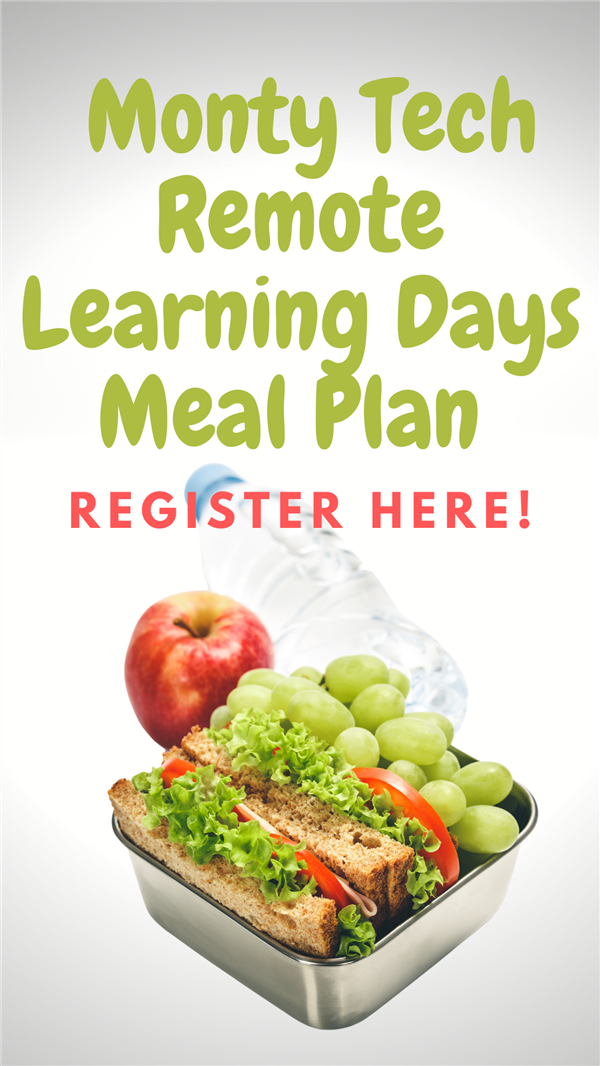 We are delighted to announce the expansion our free breakfast and lunch service! Now, your student can have free breakfasts and lunches, even when they are learning from home!

To participate, families must simply complete this registration form.

https://forms.gle/XUrDMGGkH39v4y436

The program will allow students to receive five days' worth of nutritious school breakfast and lunch fare consisting of cold and ready-to-heat meals, whole fruits and vegetables, milk, juice as well as some easily assembled meals at the end of their five day in-person school day cycle.

Pick up for the Monty Tech Remote Learning Days Meal Plan will occur on:

A Week:
Sophomores will receive meals on Wednesdays
Juniors will receive meals on Tuesdays

B Week
Freshmen will receive meals on Wednesdays
Seniors will receive meals on Tuesdays

Families may also choose to pick-up their meals on those designated days rather than have students bring the food home on the bus.

This program will also apply to those families who are participating in Remote Learning Only. If such a family opts-in to the program, they will be able to pick up their meals on Mondays of both A and B weeks.

The program will begin the week of October 5th, but you can register anytime up to December 31st!

If you are interested in the new Monty Tech Take-Out Program, simply complete this form by Wednesday evening, September 30th, and we will reach out to those families by the end of next week.

NOTE: All take-out meal packages will contain: Allergan Information, Safe Food Handling Information, and Suggested Meal Planning. If you have any questions or concerns, please contact Jason Yeagle, Food Service Director at yeagle.jason@montytech.net or (978) 345-9200 ext. 5257.